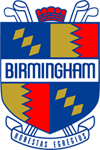 Address: 1750 Saxon Drive, Birmingham, MI 48009
Phone: 248.644.4111 ex. 243
bhamcc.com
Birmingham Country Club is one of the premier, family-oriented country clubs in southeastern Michigan. Its four hard courts and two clay courts offer its members a tennis program that caters to both the adult and youth player. Multiple USTA teams compete out of the club and their youth program boasts over 200 participants. BCC's golf course has hosted many outstanding National USGA Amateur and Major PGA Tour Events. The club also has a large swim program during the summer season and provides full service dining throughout the year.