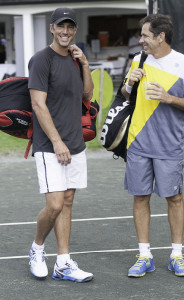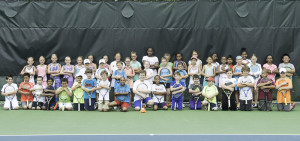 This year's event was played at the Birmingham Racquet Club July 18-20 and featured over 110 players ranging from local cities such as Bloomfield Hills, Troy and West Bloomfield to the outskirts of Detroit — the Palmer Park Program, Grosse Ile, Gaylord and East Lansing; to other states such as Massachusetts and New York along with our friends from Mississaga & LaSalle, Canada.
The Green Dot Tournament had separate girls' and boys' divisions and played throughout the weekend with the Boy's Division having Patrick Tiwari of Troy coming out on top with a win against Wyatt Snyder of La Salle, Ontario, 6-3, 6-3.  The Girls' Division finished with Laynie Thompson of Clawson on top with a final score of 6-2, 6-4 against finalist Grace Shaya of West Bloomfield.
The Orange and Red Ball tournaments for the first time this year were made an "earned advancement level tournament"; meaning players were given points for participating and both divisions played early round, round robin formats, leading into tournament-style finishes having a winner for the first time in both divisions. Orange ball had separate boys' and girls' divisions both of which played round robin matches on Saturday with 4 boys and 4 girls returning Sunday morning for the finals.  Michael Liss of Bloomfield won the Boys Orange Ball while Andrea Fulmer of Grosse Ile won the Girls' Orange Ball.  The 8 and under Red Ball players are co-ed and they played 2 hours of round robin play finishing up with 4 finalists, 2 boys and 2 girls; with Stasia Kryk of Windsor, Ontario beating out Luca Marciano of Grosse Pointe Farms for the Red Ball Championships!
Another new aspect this year was the Saturday night exhibition match between former top 10 touring professionals, Aaron Krickstein and Jimmy Arias.  The exhibition was played at the Bloomfield Open Hunt Club on their stadium court.  Over 300 people turned out for the festivities and all children who competed in the SLK tournament received free tickets for themselves and their parents to watch the exhibition. There was great support not only from tournament participants, but from the local tennis community who came out to watch two top players compete in support of a great cause!
A big THANK YOU to all the volunteers and parent support received throughout the weekend of tournament play.  Special thanks to the Bloomfield Open Hunt Club for the use of their beautiful facility for the exhibition, the Birmingham Racquet Club for their facility which hosted the tournament play, to Lenora King from Palmer Park who helped gather some kids from her program; Mike Graff who ran the Green dot portion; while Dawn Fallu ran the Red and Orange Ball portions.   And of course Keith King, Courtney King and Julie King for creating and growing such a special event for kids.